101 Grant St
Aurora, NE 68818-3200
CATEGORIES & HEADINGSdetails >>
Resident / Client Services //
Penner Spas is a leading provider of innovative bathing systems to health care facilities.

Penner is changing the culture of bathing areas by designing spas with color and features that clients have asked for in their bathing systems. Facilities no longer want a tub room, they want a spa area that residents can relate to a homelike environment. With this in mind, Penner Manufacturing designed the Cascade Premier.

With 37 models to choose from, features include a 26-inch or 32-inch LCD TV, DVD and CD player. All of the spa controls are built into and hidden in the cabinetry which also features a built-in reservoir for quick-fill capability.

Color choices truly make Penner the leader in changing the culture of bathing. It's all about pleasing the eye and making the spa environment more attractive and inviting to residents and staff.

Who wouldn't want to enjoy a soothing bath while watching a favorite show or listening to that special music that takes one back?

A spa isn't the old, antiquated, white institutional tub. Penner makes it look more like furniture with stylish cabinetry, a television, and multiple colors.
Product Spotlight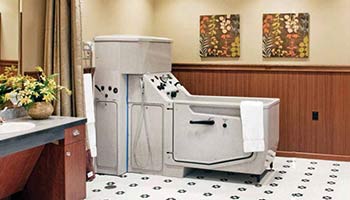 All Penner Bathing Spas have been developed with the end-user in mind. Dependability, ease of operation and low cost of ownership are the benchmarks on which Penner Bathing Spas has built its reputation. More than 300 years of combined experience goes into the design and development of their bathing spas. Penner Bathing Spas prides itself in providing quality, American-made bathing spas that help create a true, home-like environment. Choose from more than 37 different models. Penner Bathing Spas has the right spa for your facility! read more